Back to BlueNews
Have A Healthy Autumn With These Wellness Tips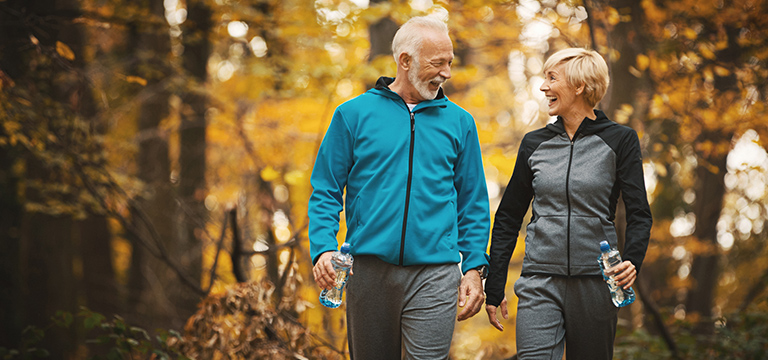 Fall is a great time to readjust your daily routine to be more health-conscious. As the weather gets cooler and the days become shorter, take advantage of the season to boost your health habits. It's a great time to build a wellness regimen that lasts all year round. Here are five tips to get you started:
1. Add more beans to your diet
Beans are full of protein, iron and potassium. They are also a profound source of folic acid, which aids in the production of red blood cells. In addition to being good for your body, beans are a delicious fall ingredient guaranteed to warm and fill you up as the weather gets cooler.
2. Sync your internal clock with the external environment
Fall means the days are getting shorter. To better adjust to the earlier darkness, set your natural sleep schedule to match that of the environment. To synchronize your sleep-wake schedule, make sure to expose yourself to light right when you wake up in the morning. Avoid any bright light, like from screens or devices, two to three hours before going to bed.
3. Get outside
There is nothing like taking a brisk walk or going for a run on a cool fall day. As the heat waves come to an end, it's the perfect time to take your workout outside. In addition to your conventional exercise, spend time raking leaves and doing yard work. On your rest days, try meditating or just taking in the view of the beautiful fall foliage.
4. Spend time with family and friends
Surrounding yourself with loved ones is a great way to stay social and boost your mental health. There are many fall activities that you can do with your friends and family, like apple picking, corn mazes, trick or treating and carving pumpkins. Cooking or watching a movie together are also fun ways to stay connected with each other.
5. Get your annual flu vaccine
Prepare your immune system by getting your yearly flu shot. The flu vaccine is highly effective and is available at many pharmacies and doctors' offices. Make sure to get your flu vaccine every year because last year's shot is not guaranteed to protect you from this year's new strains. Remember, it's free when you see an in-network provider.
If you are looking for an effective way to meet your wellness goals, our Online Health Coach can help you stay on track to maintain your healthy habits year round.
Source:
https://www.webmd.com/women/features/8-fall-steps-for-healthy-living
https://www.webmd.com/fitness-exercise/features/8-fall-tips-healthy-living#2
Published on: October 14, 2021