Back to BlueNews
5 Healthy Meals to Bring for the Holidays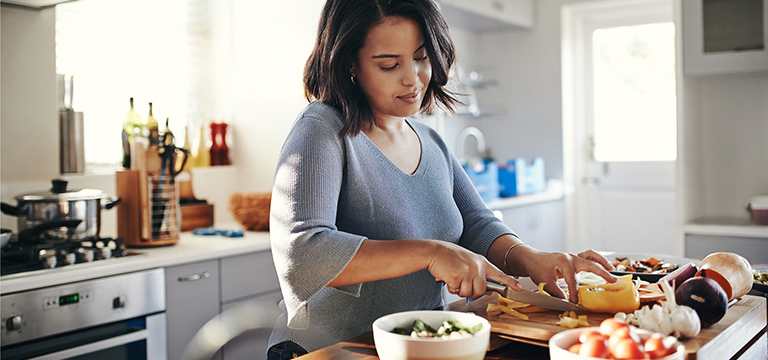 Did you know the average holiday dinner contains as many as 3,000 calories? That's more calories than most people eat in a day, and that statistic doesn't even include beverages. Considering that heart disease is the leading cause of death in the U.S., that makes switching up your holiday meals a good opportunity to improve the whole family's well-being.
Of course, everyone looks forward to their holiday favorites. There are simple, easy ways you can make healthier versions of holiday staples and find new favorites.
Butternut squash is a great in-season vegetable for your holiday dinner. It's high in vitamin C as well as other nutrients. Plus, making it is a breeze. Just cut it, scoop out the seeds, season it and roast it in the oven.
You don't have to be vegan to enjoy this guilt-free dip. Traditional spinach dip may sound healthy, but it's actually high in fat due to its cheese and mayo content. This recipe replaces those ingredients with ones like tofu, cashew nuts, nutritional yeast and vinegar. These give it a similar texture and cheesy taste, but with a good dose of B vitamins, protein, zinc and fiber.
Sweet tooths rejoice—heart-healthy doesn't mean 'no sweets.' This tasty crisp gets its sweetness and antioxidant content from natural fruit sugars. Plus, it's dairy-free, gluten-free and vegan-friendly, meaning just about everyone at the dinner table can enjoy it.
Perhaps no holiday dish is as beloved as mashed potatoes. The milk, butter and salt that's added to mashed potatoes all increase your blood pressure, making it no-so-heart-friendly. By swapping mashed potatoes for cauliflower, this recipe gives you a similar taste and texture but with way fewer carbs.
Roasted sweet potatoes and Brussels sprouts
Don't skip over these greens. Brussels sprouts contain a lot of antioxidants, vitamins and fiber, which all promote good heart health. The sweet potatoes add sweetness to this recipe, along with plenty of spices to give it a lot of flavor without the salt.
If you're looking to improve your heart health by eating better and staying active, the Online Health Coach can help. You can easily set and manage your goals and track your progress along the way. Eligible Standard and Basic Option members can also receive $40 for each eligible goal completed, up to three, for $120 total.*
*You must be the contract holder or spouse, 18 or older, on a Standard or Basic Option plan to earn incentive rewards.
Source:
https://www.everydayhealth.com/heart-health/diet/heart-healthy-holiday-recipes-on-pinterest/
Published on: December 09, 2021